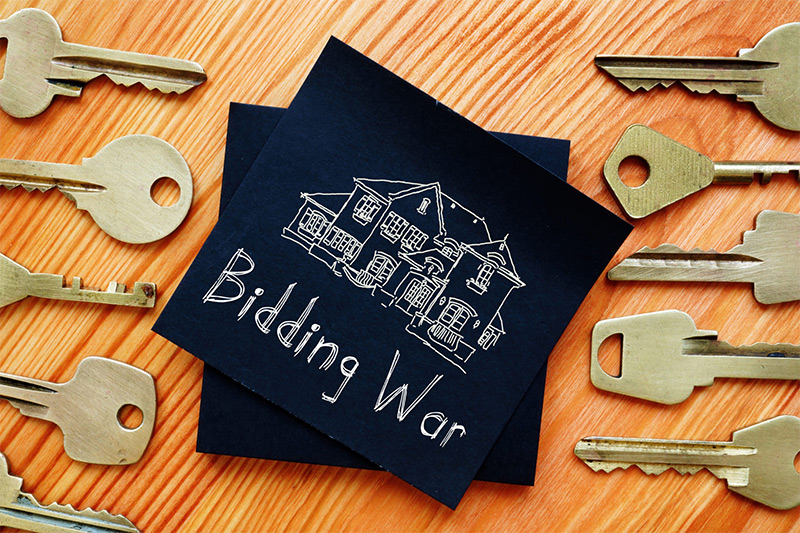 Knowing everything about real estate bidding wars can help you make an offer that sellers won't refuse when the housing market is aggressive. Start with a real estate agent who specializes in your local market and puts finding you a home at the top of their list. Your agent can help you understand the differences in your area, so your bids are competitive without being too expensive. You can learn how to better your odds while making an offer on your future home with these following tips.
Offer your highest price
You should come in with your highest and final offer if you're in a bidding war for real estate. If there are other offers on the table, it's unlikely that a seller will negotiate. Make sure your bid is the highest you can make, and be prepared to lose if the house sells for a dollar more than your offer. While you will not know the costs of the other bids, you will know the sale price once the deal closes.
The list price isn't always the selling price
Just because the list price is within your budget does not mean the selling price will be. On average, buyers pay up to 3% more than the list price. These numbers can change as the market rises and falls.
Prepare to waive contingencies
In a competitive market, you are likely to have to enter into a deal with very few or no contingencies. This may be because there are clauses enabling you to back out without breaching the contract. A competitive offer might eliminate things like a home inspection, a house sale contingency, and more. A new home is less likely to have problems, but an older home may need some fixing that a home inspection would normally reveal. Knowing the possibilities before waiving contingencies will help you to be more mentally, emotionally, and financially prepared before making an offer.
A high bid does not always win
It's critical to make a good offer, but sellers might want more than just a high number. Fast closing and possession, few contingencies, a free leaseback term, a short option period, or even a personal letter to the seller (the last of which may or may not be read) can make a buyer stand out. As long as you offer a competitive amount, these extras might seal the deal.
Research is crucial
The home you are bidding on probably isn't worth spending money on if it seems unreal. If you've been paying attention to local real estate, you've probably recognized how square footage, age, dwelling type, and others affect listing prices. Listings that don't match market values are usually due to various reasons: cosmetic fixes, suspect histories, or additions that aren't up to code. Make sure the house you bid on is safe and meets your needs, no matter how much you want it.
Questions? Contact Golden Bear Mortgage Corporation Today!